There is a first for everything and here is my first wedding photographed on film. Ever since I received my Contax 645 at end of February my goal was to use it to photograph my sister's wedding. I only shot previously maybe four rolls and that was over the several months before her wedding. Not as much practice as I wanted; however each frame of each roll was carefully composed. I counted up how many rolls I thought I might shoot and placed an order through Adorama. I honestly wondered how it was all going to work with switching between digital and film; however two things motivated me. One, I love a challenge. And two I also really wanted to do this for my sister.
Film has enamored me. I am inspired by and it has captivated my heart. Part of it is the challenge to see if I can get the exposure accurate (I still want to get an external light meter). It takes me a little longer to adjust the aperture and shutter speed when the light changes to get the correct exposure. When I get the scans back and most of the images are exposed correctly, it makes me happy!! The other challenge to me is learning to manually focus each image for a crisp and clear photograph in the moment. I am use to auto focus and crisp images. Thankfully I feel that film is a little more forgiving with soft images. And another challenge is creating the composition within the frame as I hit the button for the shutter to be released. The color film captures, the waiting for the photographs to be developed, and seeing your images for the first time are all things that also contribute to being enamored with film. I hope film will always captive me.
After each shoot I write down what I learned and what I would want to do different next time. Specifically for shooting my sister's wedding with film as well as being in the wedding I would do one thing different. I would have shot more film. I did shoot nine rolls (only 16 images per 120 film) one of them being black and white on top of the thousand digital ones. However, I love love love these images below. I realized that I also took chances as I usually only took one shot per detail or pose. I knew that film images were additional or better yet a bonus. If it was the only medium that I was shooting; it would be different. The exception that I know off hand was that I took four photographs of the flower girl; she was my daughter. There are only maybe four or five film images that were not included in this post. One other thing that I would have done was use the check list that I have to cross off shots that I had taken with my film camera. I do not know if it was the switching back and forth from film and digital that I could not remember what I shot on film, or if it was my pregnancy brain that has me forgetting things all the time. When editing the digital images I was looking for certain shots that I knew that I took; only to realize that it must have been on film.
I used Fuji Pro 400 120 and Ilford Delta 3200 (black and white) for the Contax 645. I used The FIND LAB for developing and scanning and always have been pleased with their service and feedback.
You can see my sister's wedding here and here. Again, I thank Laura and Drew for allowing me to photograph their wedding. These film images are just the icing on the cake for me! ENJOY!!!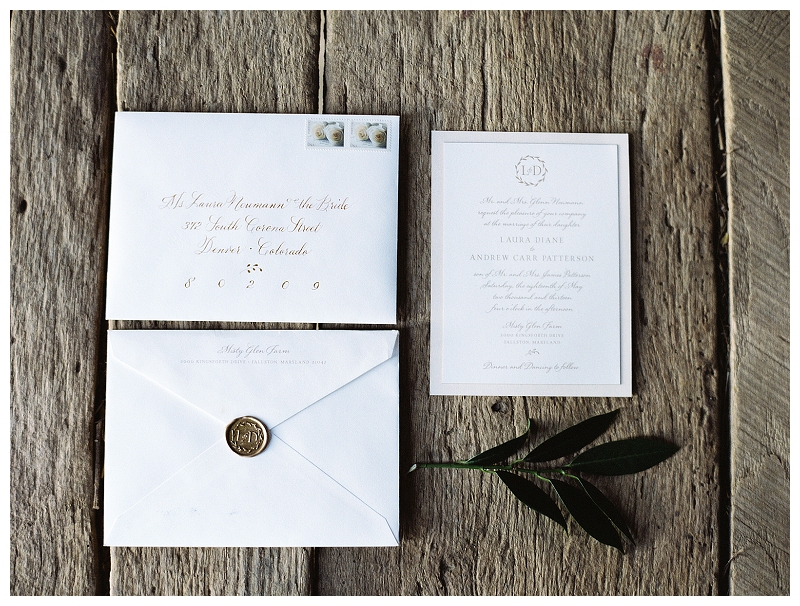 Again, the lovely calligraphy written by our mother.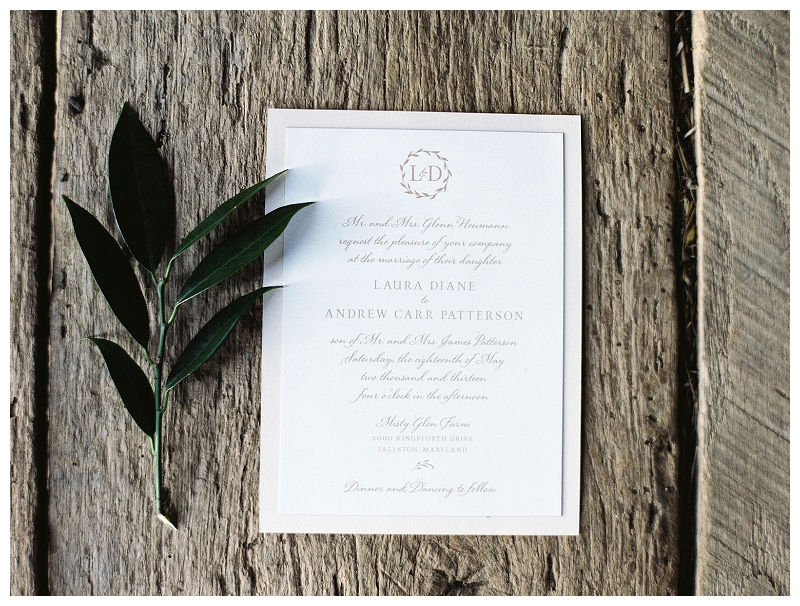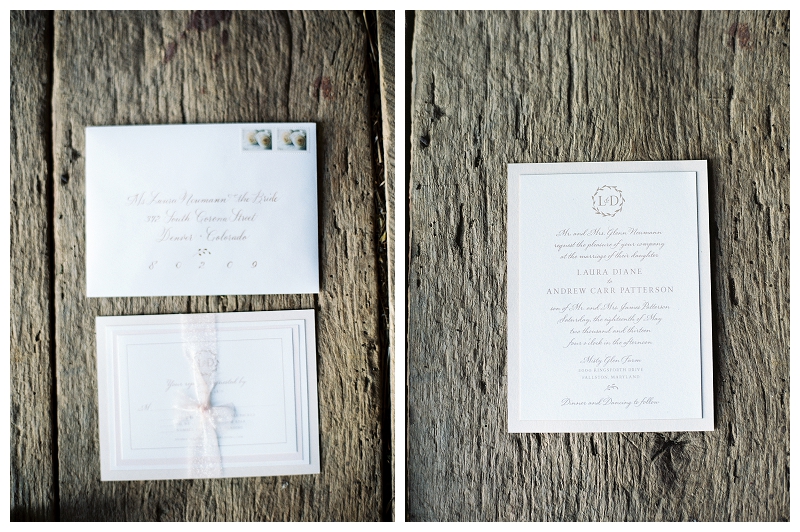 Laura's dress was full of layers of tulle topped with feathers! a perfect combination.


All of these images were photographed in our barns barn that is over 150 years old.







Love her smile!



a few portraits before seeing her groom and I love how the wind was gently blowing her curls!!

the groom heading out to to see his bride!


love love love this one.
this was one of the ones that I was looking for in my digital images.

Their first look! I love how Drew is looking at Laura in her dress!




The one above of the right is a favorite of Drew.






When I saw the one above download I about died! I love EVERYTHING about Laura and Drew in this image.

yep, caught Laura in mid smile.

And I might have had the same reaction when I saw this image too! LOVE it!!







Our family is now complete!


My brother, sister in law, and their little ring bearer.

I love my husband!


Thank you Daylene for taking one of the whole wedding party!

As soon as I was down the aisle I grabbed my camera and started shooting!!



After the ceremony I had ten minutes with Laura and Drew before they too joined the cocktail hour.




Yep, you two look so good together!

The band and the food were both amazing and made the cocktail hour and reception memorable!



Rusty Love rentals on display.


A DIY project was creating the cake stand to its appearance…
finished in white by Lyndon, hand painted touch of gold, white glass plate for the surface.


I loved the pink and gold combinations that filled each table.

Laura hand stamped each favor that had homemade cookies made by Drew's mother for everyone to enjoy.









And after dinner the dancing started!

As the sun went down I started using the Ilford 3200 film.
I remembered to change my film speed on the side of the camera and began capturing the rest of the reception. No flash.








And then the finale…fireworks!

Invitations:  Word Shop
Calligraphy: Diane Neumann (Bride's Mother)
Ceremony: Misty Glen Farm, Fallston, MD
Reception:  Misty Glen Farm, Fallston, MD
Dress:  The Bridal Collection

 Shoes: Seychelles
Rings: Engagement Ring and Wedding Band, Miro Jewelers
Earrings, Etsy Store: Not One Sparrow
Veil and Hair pieces: Veil, Wedzu
Hair Piece, Jessie Capstick (Friend of the Bride)
Hair Stylist: Kym Rodda (Friend of the Bride)

Makeup: Caylan Clifford (Friend of the Bride)
Bridesmaid's dresse: Own choices: J. Crew, Nordstroms, Modcloth, Ruche, Anthropologie, BHLDN
Bridesmaid's shoes: Their own choices.
Earrings, Etsy Store Not One Sparrow
Bracelets: Kith & Kin
Hair for Bridesmaids: Jamie Halcott of Baltimore Bridal Beauty

Groom attire: J.Crew Suit, Bedstu shoes
Groomsmen attire: Macy's
Flowers:  The Floral Studio
 Cake: Kathy Deane (friend of the Bride)
Dessert table: friends of the Mother of the bride
The Favor: Homemade cookies made by the Groom's mother

 Music (ceremony/reception):Ceremony, Cocktail Hr, Dinner, The Mudpatch Family Band, DJ  Andrew Walker (Friend of the Bride)
 Catering:  Laurrapin Grille

Rentals:  Loane Bros, Tent, chairs, glass and silverware
Dance Floor: Rented from a Friend of bride

Lounge Area, Chandelier, Rusty Love Vintage Rentals
Wedding Day Coordinator:  Angela Mangione