When I was little, this was the question my mom asked me every night before school. I had to lay out my outfit so that in the morning I didn't spend time searching for the shirt I wanted, only to find it buried under a pile of clothes. Yes, I'll admit my room was a mess and I was the only one to blame for it. What's funny now is that I find myself asking Myla the very same question each night before Pre-K, "What are you going to wear?" For the record,  while this has prevented some drama we are still having meltdowns about wearing shoes now that the weather is cooler. She would love to wear flip flips until it snows.
And now I am asking myself the very same question as we prepare for our own family photo shoot this weekend.  I can not wait for Sara of Lazio Images to capture the three of us! More on her later. I thought I would share my process with you since I imagine I am not the only one who stresses over what to wear, photo shoot or not.
Over the years any sense of style (aside from the clear originality of jeans and a t-shirt) has come from my sister. I like to defer to her for advice and honest opinions as she knows style but also knows me best. As I have gradually begun to figure out my own personal style, I have grown to love styles from J.Crew, Madewell, Anthropologie, and Ruche, to name a few. I flip through pages of magazines and dog ear the ones that catch my eye.  As with my photography, I cannot help but pay attention to all of the fashion details! I look at what they are wearing down to the details of shoes color, belts and even the bracelets around their wrists. I have also expanded my fashion vocabulary to incorporate two important terms when it comes down to deciding what to wear: coordinating and layers.
These two words have slowly come to overrule my driving impulse to dress in jeans and a t-shirt. Coordinating: colors and style that go together, compliment, but don't match exactly. I like to look for colors that I love and add one more color that will compliment it. I love yellow and grey, blue and greens, and yellow and blue and there is always a touch of pink for my girl. For the record, this did not come naturally to me at all. I had the help of my daughter whose desire is to match me. I started with practicing with our outfits for Sunday morning church and am now actually beginning to enjoy coordinating with my family.
Second is the all important layers. Remember there are no layers to jeans and a t-shirt; though it's my favorite. I had to learn to add layers or accessories, the first accessory being a belt. That was a simple and small enough change that I still felt comfortable. Belts come in all sorts of color and even glitter now, so options are not a problem. A necklace, or a bracelet and a pair of earrings will also add more layers and details. If you are pulling your hair up, add a flower or something that sparkles.
One final tip I have for you is to get to know Shavee. Yep, she is the J. Crew personal stylist at the Towson mall. She is amazing and pulls outfits together that coordinate and have layers that I would never see when walking through the store. I have grown to trust (and depend on!) her style and taste. So if you are in the area, stop by and ask if she is available, and try on the outfits she suggests for you. You might just find a new favorite outfit!
So these are just some thoughts…what are your tips when choosing what to wear?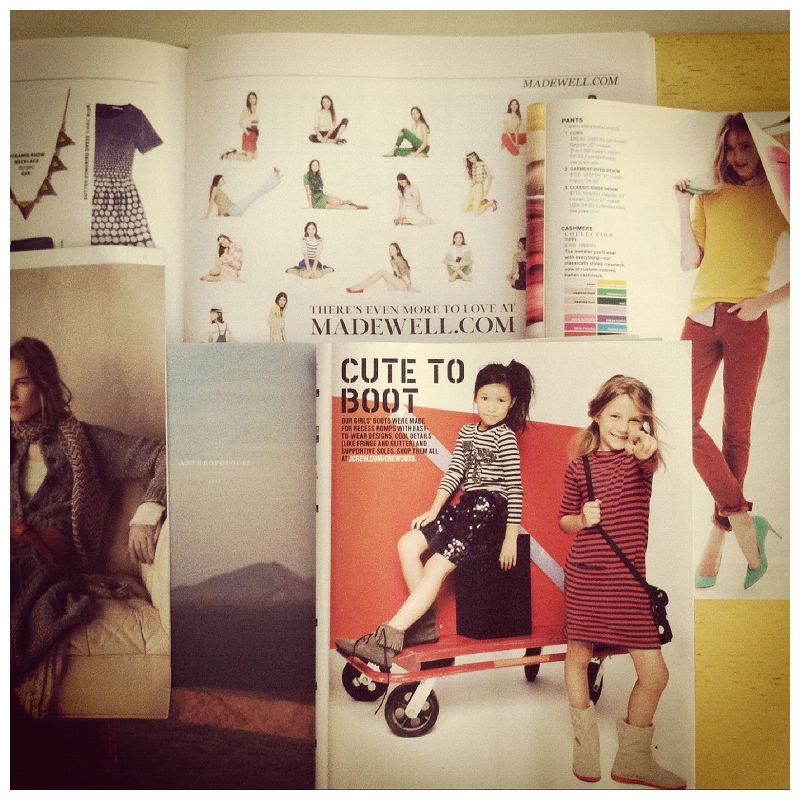 Here is how I started…pulling favorites and mixing and matching them.
But, don't worry the final outfits I think I picked aren't pictured below. Now off to iron some clothes.