I thought it would be fun to share a little bit about me. Starting here with a list of ten things that you might or might not know about me. Here we go…
1. I was a flower girl when I was ten months old and walked down the aisle of my aunt's wedding. My mother made my dress.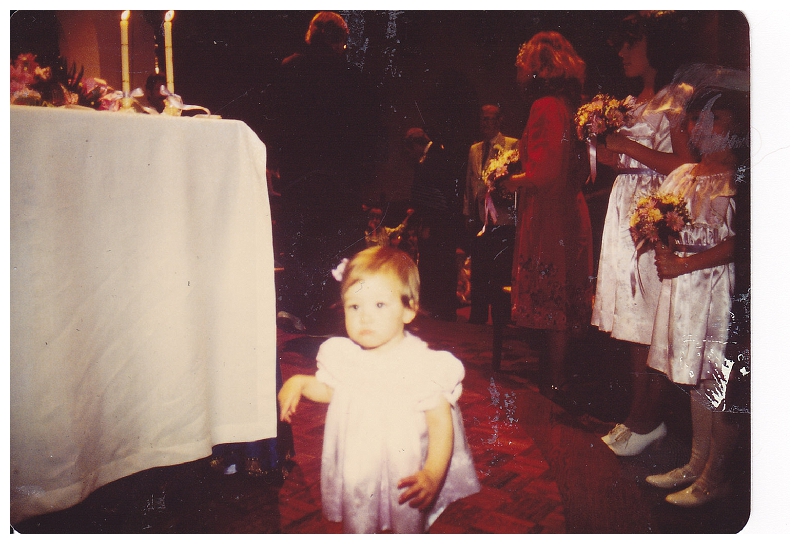 2. I played three sports throughout high school: soccer, basketball, and lacrosse. Lacrosse being my favorite.
3. I have never broken a bone; however I have had to get stitches on my chin three times. I can remember all three times.
4. If I have leftover pasta from the night before, I love eating it for breakfast. Butter and parmesan cheese please!
5. I look through magazines backwards, always starting with the last page.
6. When Lyndon and I traveled to Europe in 2006 I drove the Ford rental car the whole two weeks. Not because I like driving or control; but I was the only one old enough to rent a car. I will say that I was disappointed to be driving a Ford in Europe, I was wanting something well more European.
7. Peaches are my favorite fruit and I love picking them. I made this peach cake for Myla's birthday this summer, it was delicious!
8. Our first kiss on the lips was on our wedding day in 2004!
9. My middle initial is "d" for Deneke. It's my mother's maiden name and I have grown to cherish being given it.
10. Woodberry Kitchen is hands down my most favorite restaurant ever!!! The atmosphere, details, presentation, style, and the tasty farm to table food has spoiled my eating experience as I compare every restaurant to it!