Recipes and I work two ways. The first way is when I am trying a new recipe. I try my best to follow exactly what the directions say. No shortcuts no matter how tempted I am. I tell myself, follow the recipe. The second way I work with recipes is seeing them as guidelines. The more familiar I am with a recipe the more liberty I feel to tweak the ingredients or anything else I feel like. The tweaking depends on what I have on hand and how much time I have before it needs to be serve. Yesterday I made banana bread. This is the best recipe and it makes two loaves. So I wanted to share. ENJOY!!
2 1/2 cups flour
1 2/3  cups sugar
1 1/4 teaspoon baking powder
1 1/4 teaspoon baking soda
2/3 cups oil
2/3 cups buttermilk
4 bananas
3 eggs
Bake one hour at 350 degrees. Read below the liberty that I took to tweak it.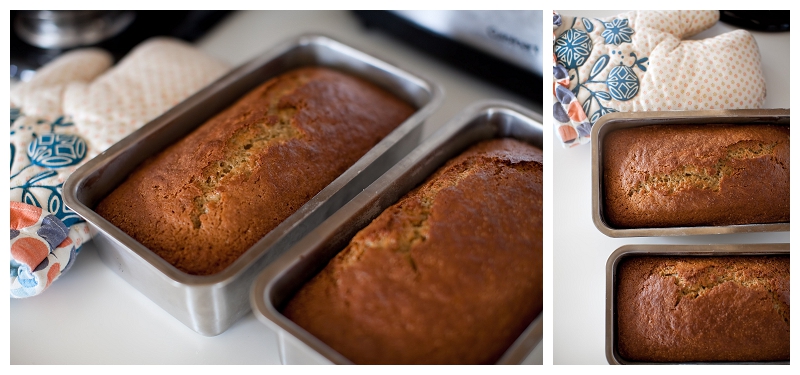 Yesterday, I had little over an hour before we headed to story time at the library and I had this idea to make banana bread for our care group meeting. I started to read the ingredients list out loud and realized that I was out of buttermilk. I never tweak that. It is the secret ingredient for making the bread so yummy! When talking this out loud Myla suggested using kefir. So tweaking began as I used 2/3 cups kefir instead of buttermilk. Now the clock was ticking if I wanted to get the loaves baked before Story Time. First, I always freeze my soon to be rotten bananas. I throw them right into the freezer with in mind to make banana bread at another time. My freezer is a little full with bananas now. I did not have time to wait for the frozen bananas to defrost. I decided that the oven would be my best bet to defrost them. The oven worked great. I used 2 cups of whole wheat flour and 1/2 cup of white flour. (in attempts to hide the wheatiness). For the sugar I used the combination of rapadura and organic evaporated cane juice to meet the 1 2/3 cups the recipe calls for. I use olive oil for the oil. Though I have been tempted to try coconut oil in its place, I decided not to this time. I will say that I keep all the measurements the same, just not the ingredients. I baked the loaves for about 50 minutes in my oven and I had six minutes to get to story time on time!