I'm excited to share with you Leslie and Jay's classy wedding in the historic city of Philadelphia. In the words of one bridesmaid, this wedding was 'Vintage Glamour', and I could not agree more.  Their day was filled with family and friends, beautiful details, and charming love. Jay had waited for years for Leslie, and on Saturday, August 11th, the day finally came when she would become his bride!
The day began for both Leslie and Jay at the Racquet Club of Philadelphia.  They had done an amazing job planning their wedding to be a day that truly reflected who they are, even down to the smallest of details.  As a photographer, when capturing weddings like this it is hard for me to leave out any of those details!  In the house suite, Leslie was surrounded by her bridesmaids, house party, friends and her mother as her hair and make-up was done by Claire and Tonia.  Music played, texts were sent, smiles beamed, and expectancy filled the air as Leslie slipped into her wedding dress. In the other wing at the RCOP Jay and his groomsmen dressed, tied bow ties, and pinned boutonnieres. Both were ready. It was time to walk to the Tenth Presbyterian Church just a few blocks away.
Tenth Presbyterian Church is very significant to Leslie and her family.  Not only was it the church her grandparents first attended after they were married, but Leslie attended her first service there when she was only six months old. But on this day, Leslie entered the church as a beautiful bride escorted by her father. At the other end of the aisle, Jay stood with his eyes fixed on Leslie, his love for her evident.  The church and the service were beautiful, the stained glass windows flooding the place with light as the message of marriage pointed Leslie and Jay to God.   They exchanged their vows and made an everlasting covenant before Him, sealing it all with their first kiss as husband and wife.
Having known Leslie since childhood, I was so honored to be a part of their wedding day and to capture their love in a city that they both love. I want to thank Gina from Kaleidoscopes Weddings for organizing the day and knowing every detail that made the day go smoothly! I also want thank Char for second shooting with me, I truly could not have done it without her. There is more to their wedding story, so you will have to wait for part two!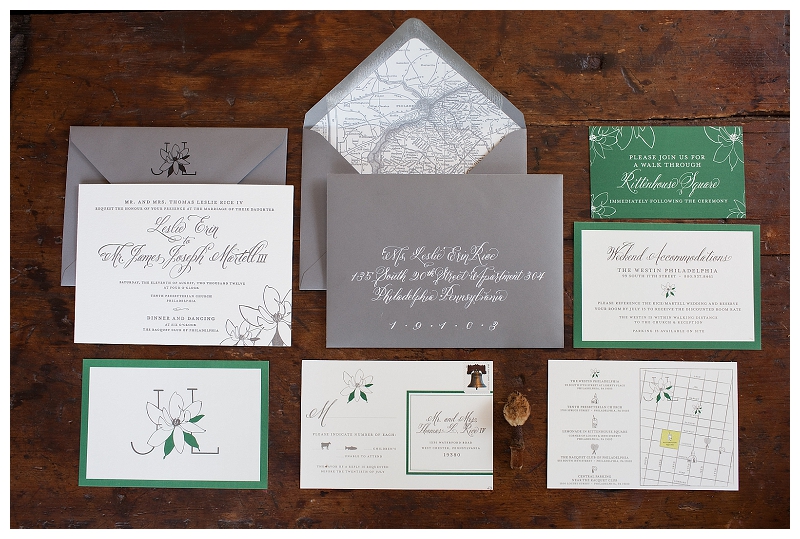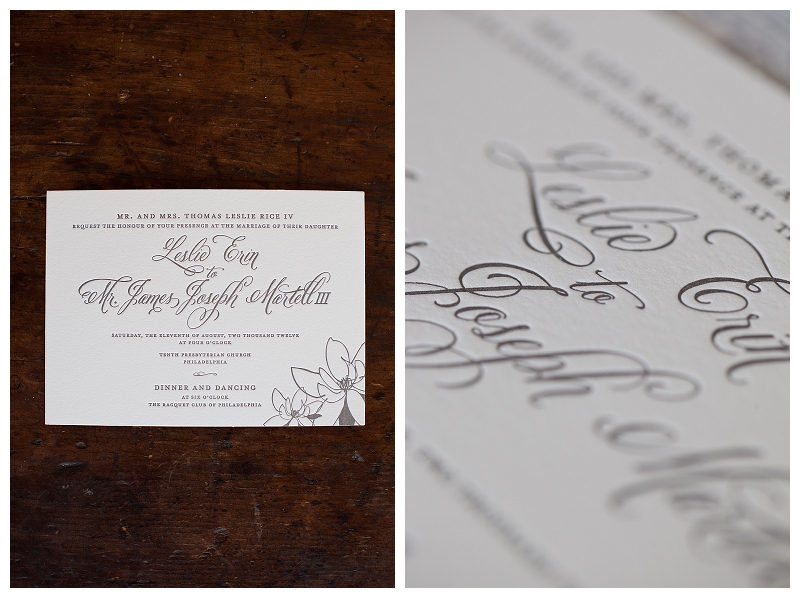 LOVE, LOVE, LOVE letterpress!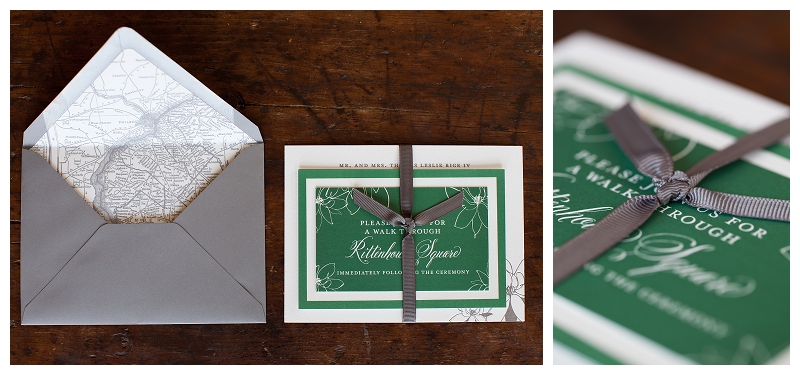 All the calligraphy was hand written by my mother and done so to match the font of the invitation!
Attention to the details!


Guest were greeted with these stylish boxes in their rooms with Leslie and Jay's wedding
logo designed by a friend and artist Erica Greenwald.

A personal note from the bride and groom welcomed their guest to Philadelphia!

These welcome notes were created by my mother…she is so creative!

The Racquet Club is a private social and athletic club in the heart of Rittenhouse Square area.
It was the perfect historic location for the getting ready and the reception.



Upstairs in the RCOP Leslie began getting ready…




LOVED her dress and all the details and buttons!!!




STUNNING ring which included Jay's mother's engagement diamonds on the sides of Leslie's band.



Hair and make up was done by Claire and Tonia. They had everyone looking beautiful!



The room was filled with make up, brushes, and curling irons as the bridal party got ready!







On the first floor of the RCOP this window begged for Leslie's dress to be hung!


As the girls continued to get ready…CHAR captured Jay and his groomsmen.




The racquet court was reserved for the late afternoon not for a game but for pictures!



LOVE all the bow ties!

Leslie slipped into her wedding gown surrounded by her bridesmaid and mother!






Love this face!


Heading out of the RCOP with the help of her maid of honor for some portraits.


the city light was amazing…



The softness of Leslie's dress was the perfect backdrop for her elegant bouquet.

Such an amazing group of girlfriends!






FAVORITE!!!!
a quiet moment before being escorted to the church…





Cute ring bearer with a bow tie!









Catching his bride's eyes for the first time as she walked down the aisle.














Love the happiness CHAR caught in the image above.

Officially husband and wife!!

Venue: Racquet Club of Philadelphia
Ceremony: Tenth Presbyterian Church
Coordinator: Gina Rio of Kaleidoscope Weddings
Invitations: Robyn Platoni of Chick Invitations
Wedding Logo: Erica Greenwald
Flowers: Flowers by Priscilla
Town Car Service: Trophy Limo
 Rings: Boone & Sons Jewelers   (Jay's family jeweler)
Hair and Make up: Claire and Tonia (Contact Gina Rio of Kaleidoscope Weddings)