Almond bars
2 cups almonds (i only had sliced, so that is what I used)
1/3 cranberries (instead of (original called for 1/4 cup flax seeds, chia seeds or pumpkin seeds – I did not have any on hand)
1/2 cup dried prunes, dates or raisins (I used prunes!)
½ cup shredded coconut (unsweetened)
½ cup unsalted peanut butter (original recipe uses almond butter, but I didn't have that!)
½ teaspoon sea salt
½ cup coconut oil (melted)
1 Tbsp maple syrup or honey
2-3 teaspoons vanilla extract
a few squares dark chocolate, less than half a bar needed for thin layer on top! (optional)
Place almonds, flax meal/seeds, dried fruit, shredded coconut, almond/peanut butter and salt in a food processor. Pulse briefly for about 10 seconds.In a small sauce pan, melt coconut oil over very low heat. Remove coconut oil from stove, stir sweeteners and vanilla into oil. Add coconut oil mixture to food processor and pulse until ingredients form a coarse paste. Press mixture into an 8 x 8 glass baking dish. Chill in refrigerator for 1 hour, until mixture hardens. In a small saucepan, melt chocolate over very low heat, stirring continuously. Spread melted chocolate over bars; return to refrigerator for 30 minutes, until chocolate hardens. Remove from refrigerator, cut into bars and serve. Makes about 12-15 bars. Store in refrigerator or freeze for later enjoyment!
The original recipe came off this blog . . . and for the most part I tried to follow the recipe. They do not last long in this house, as they are the perfect combination of sweet and salty.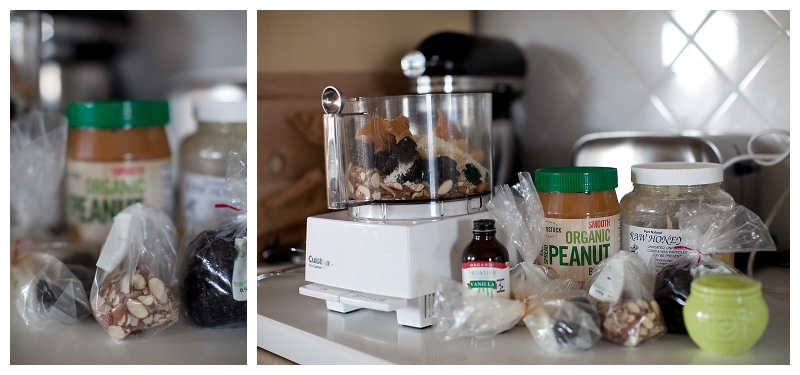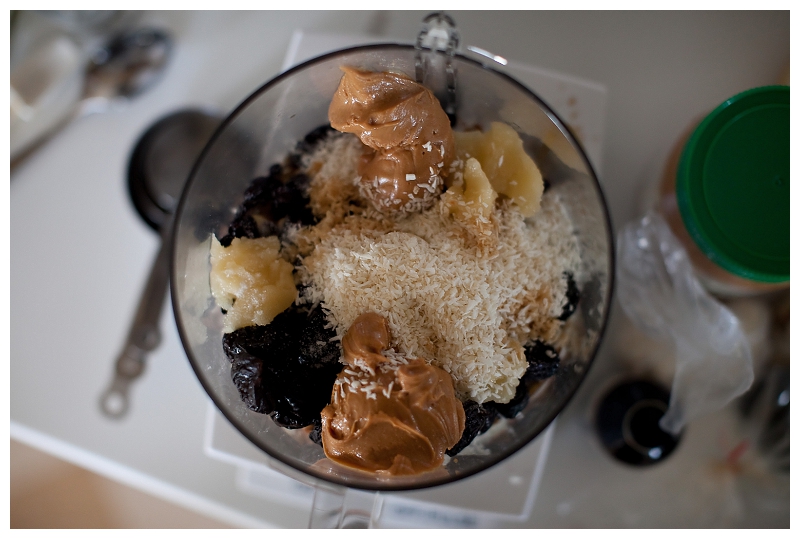 as you can see I heed instructions carefully! (I threw all the ingredients in and let my food processor do its work!)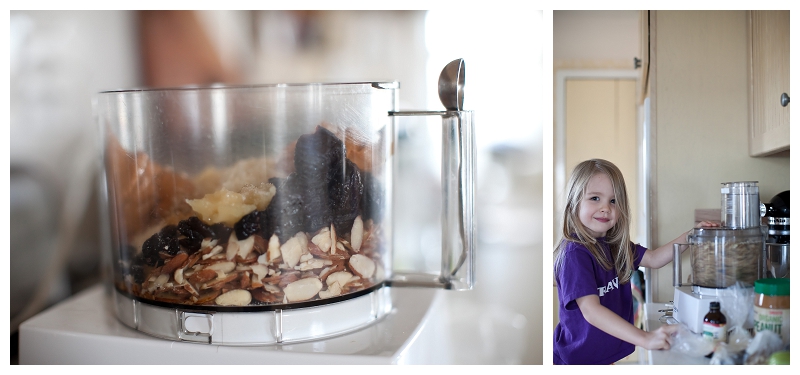 someone loves to help in the kitchen!

You are done in minutes! Press into pan and store in refrigerator. Enjoy!