Ready for part two??!!…details, details, and more details. After we finished portraits at Old Zion church we headed to the reception which was held at CrossWay Church property. It is located on a beautiful farm in southern Lancaster. Once it was clearly established that God as the center of their wedding day celebration, planning the details from there was the fun part.  The placed was decorated with DIY details everywhere you looked! When I asked about planning the details of her wedding Adalie shared that there were many ideas and they had to narrowed them down. Months leading up to their wedding, Adalie was living out in Washington; she relied heavily on her family for help. Adalie said it was her mother who would take an idea of her's and make it better! If you know Adalie's mother you know that she is known for being thrifty! The details created by their families were done solely out of love.
Here are some of Adalie's thoughts about her wedding day, "So much just fell into place into the beautiful, homey, natural, heartfelt wedding that I always dreamed of. I loved the natural beauty all around found in the beautiful faces of the people who graciously helped, friends and family who traveled from afar, my nephews catching fireflies and wrestling in the grass, the beautiful overgrown green grass, the lights hanging from the trees (a friend described them as fireflies in the trees, which I loved), my father walking down the aisle, the old beauty of the historic church building, and a million other details that made it perfect in my eyes".
As the sun was setting Adalie and AJ choose to take some more portraits together as husband and wife. This is one of my favorite parts of the evening!!  Their love for one another is inspiring and I know it overflows from the love they have for God first. I could have kept shooting them until there was no more light left in the sky!! However we did stop.  The music played, the cake was cut, and the lights hung from the trees began to glow as the reception went on into the warm spring evening. In the end AJ and Adalie left married as husband and wife together!!! Again many thanks to Tina and Chaucee for shooting this wedding with me! ENJOY!!!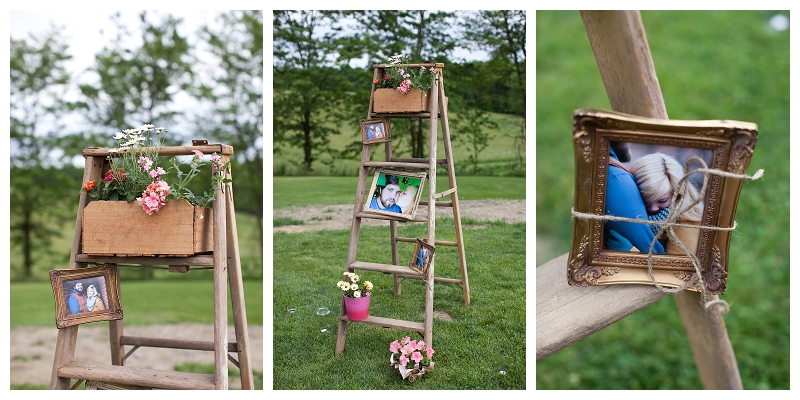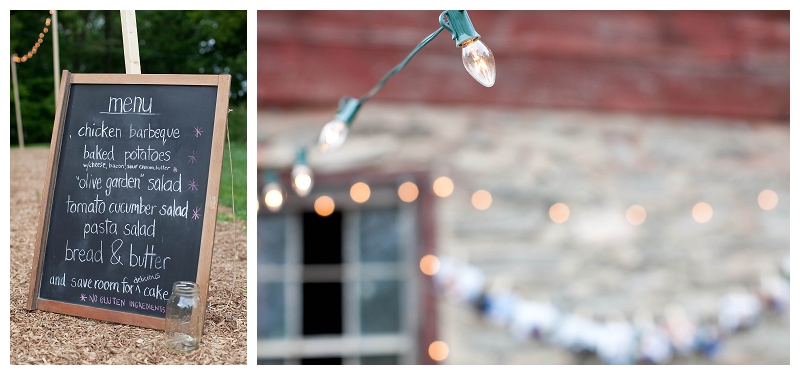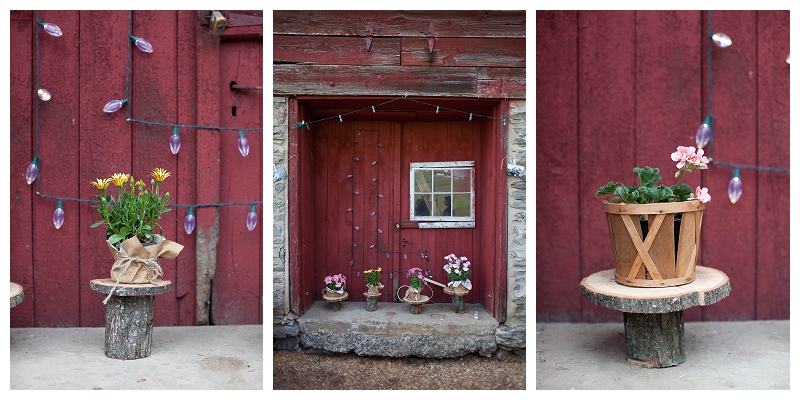 Adalie's brother made all the stands for the flowers.


Going with the color pick: there was PINK popcorn and PINK cotton candy!


Showing off his tattoo again!

From Adalie, "One of my favorite parts. AJ is from Washington, I moved there last October, and we are now leaving here together.
Our wedding was in Pennsylvania, but I wanted to have some taste of Washington at our wedding.
The area we are from is known for berries!
So AJ's mom and I made blackberry jam for favors, and AJ and his brother, Tyler, picked the berries from their farm.
Truly homemade and from the heart."


"For the kids, AJ's mom made adorable little pig soaps for each child.
I love pigs and the pink went with our theme as well. They were a last minute decision that I loved." Adalie Langford




All drinks were served in canning jars with lids! Perfect for no spills when carrying them to your table!


They found this piece of furniture in one of the old barns located on the church property!
It was perfect for the table numbers.




The food was served up above by the red barn and down below was a picnic grove where guest ate their chicken BBQ!



The flowers were AMAZING!!!!




How cute and practical…wipes in a jar!!



More pinks and yellows!!!







And then it was time for some more portraits around the property!!



Another cute ring bearer wanted to be a part of the shoot!! He too is Adalie's nephew.


LOVE this shot and angle taken by Tina!


I love these big rustic trees on the farm property.

When asked what was her favorite moment,
Adalie replied, "I can't pick just one. But they all kind of go together.
On our wedding day, AJ and I just got to be together. And that's my favorite thing."


Anyone else notice the jean jacket added! Loved the look on Adalie!



Thank you Chaucee for capturing the image above!




LOVE these moments between Adalie and AJ!


simply elegant!

Tina caught AJ playing with his wedding band!


Chaucee captured this angle of Adalie.

Such sweet LOVE!


Again the one above was captured by Tina!




Yes, she got him first!













The lights created a beautiful and romantic setting as the sun set.


Candles and lights glowed everywhere!


Ceremony: Old Zion Church
Invitation: Go Go Snap Etsy
Florist: Dawn Mellinger
Reception: Crossway Church of Lancaster
Caterer: Charlie's Chicken BBQ
Cakes: Oregon Dairy Bakery
Lighting: Studio Jenz
Bride's attire: Blouse from Old Navy, skirt made by my mother with finishing touches by local seamstress, Dawn Shahan.
earrings were from Bonton, and floral garland was made by our florist (Dawn Mellinger).
Bridesmaid's attire: Dresses made by the same amazing seamstress, Dawn Shahan.
Groom's attire: Old Navy pants, vest made by Dawn Shahan (again, amazing), and shirt from JC Penney's.
Groomsmen's attire: Old Navy pants,  ivory shirt and tan/brown suspenders and shoes.